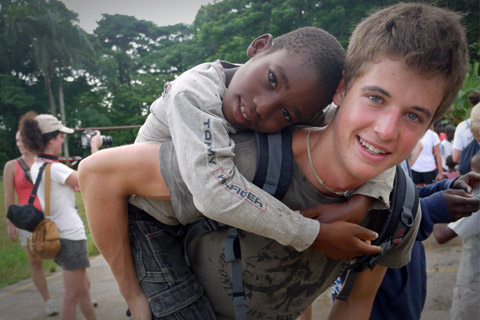 A Leader in Teen Volunteer Abroad Programs
Do you dream of becoming an ambassador for change on a global scale?
Global Leadership Adventures offers high school students (like you) a chance to participate in life-changing teen volunteer abroad trips to Africa, Asia, and Latin America.
If you want to give back in a big way, then GLA has a program for you. Engage in meaningful teen volunteer projects and adventure abroad:
Teach children in Africa and go out on an authentic African safari
Build stoves for villagers in the Dominican Republic and hike and scale a series of 12 spectacular waterfalls in the rainforest
Protect the habitat of native Galapagos wildlife and snorkel with sea lions. 
Teen Volunteer Abroad Program Themes
Children & Education • Language Immersion • Ocean & Environment Conservation • Animal & Wildlife Conservation • Sports Leadership • Medicine & Public Health • Social Entrepreneurship • Photography & Journalism • Children & Community Development • Building from Start to Finish • Middle School
Destinations Offered
Africa • Ghana • South Africa • Tanzania • Asia & The Pacific • Bali • China • Fiji • India • Thailand • Central America & The Caribbean • Costa Rica • Belize • Cuba • Dominican Republic • Guatemala • Guadeloupe • Haiti • Europe • Spain • South America • Brazil • Galapagos • Peru